C- HOOK COIL LIFTER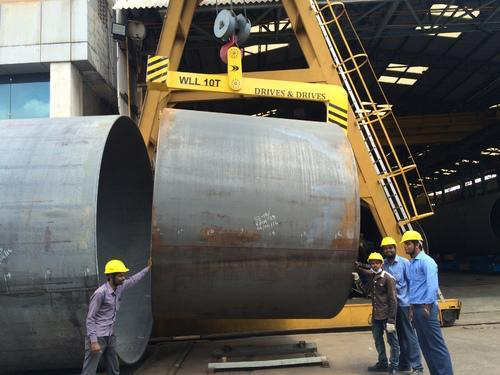 C- HOOK COIL LIFTER


A C-Hook lifter is easy to use and needs less maintenance since there are no moving parts.

C-type with counter weight balance available up to 50 TONS SWL/WLL with design safety factor of 2:1 or 3:1 depending on intensity of usage at the steel mill. We can design for coils up to 2500 mm width. Special anti-scratch guards can be provided to handle items like stainless steel, aluminum, and other non- ferrous materials. Bushes made of special material are provided for frictionless bearing motion of the lifting pin.

Designed for heavy duty applications.
• High tensile alloy steel plate reduces physical size and weight.
• Counter balanced to hang level when empty.
• Inside radius on hooks avoid coil edge contact.
• Guide handles for ease of hook positioning.
• Handles a wide range of coil widths. • Available with optional padding for additional coil protection.

These are the following dimensions we have required from consumer:
Outer and Inner Diameter of the coil to be lifted.
Width of the coil to be lifted.
Type of crane hook available. (single hook or ramson hook).
Crane hook capacity.
Material of coils.
Required minimum FOS of the C hook. (1.5:1 or 2:1).